Aerators For Sale
The AGRIFARM Agrivator Aerators range comes in 5 sizes and are extremely sought after for their extra heavy duty construction. The Aerators range of machines tower above the rest in design and features, they are Australian made at our Taree manufacturing facility.
Agrivator "Aerators" AV Series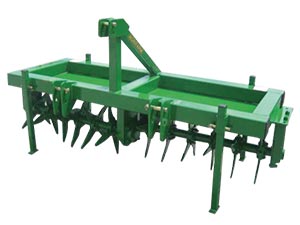 The Agrivator Aerators AV Series is a 3pt linkage mounted rolling tine aerator. Ideal for shattering and allowing water absorption into the soil and expansion of root zone in pasture and crops.
Features
Heavy duty frame design
Extra large capacity rotor bearings (greasable)
High wear resistant tines
Tow hitch for harrows etc
4 x angle settings for rotors 0 – 10°
Cat 1 and 2 hitch
Park stands x 4 for storage
Painted or Galvanised main frame
Agrifarm AV series aerators can be fitted with this small seeds C seeder allowing a one pass operation with aeration seeding and harrowing.
Seeders and mounting kit are available. For AV/150, 200, 250, 300 and 400.
Agrivator "Aerators" Specs
Specifications are available in the Agrifarm Aerators Brochure below.